Discover more from LettsSafari +
We create rewilding safari parks. Built together - visited online. One tree, one animal, one new park at a time.
10 Years Into One of the UK's Most Exciting Rewilding Projects - Revealing The Hidden Secrets of Dawlish Park
Dawlish Park is one of LettsSafari's flagship rewilding safari parks. Nearly 10 years since the first day I entered it to work, let's understand the changes that have flourished.
The beating heart of LettsSafari's rewilding work has been, is and will be the considerable, multi-year project we have undertaken at Dawlish Park. My first major rewilding project, starting just under 10 years ago today, it has been a central part of my education as a rewilder and a formative place for developing LettsSafari's understanding of smaller-scale rewilding. Today, I am taking a little time out from working there to tour Dawlish Park, describe where the changes and the work have taken place, and help us understand what this magnificent 75 acre park represents.
---
Becoming a core part of our rewilding centre in 2012, Dawlish Park was left in a place of disarray when LettsSafari's founders arrived. It had originally been a grand old forest, a vestige of the timber production that had defined life on Mamhead Park, including Mamhead Park South, for generations.
Replanted, as most farmed woodland with fast growing coniferous trees, Dawlish Park had become a monoculture forest. And as often happened with this type of woodland, the ownership of the land had changed over the years, the value of the wood itself rose and fell and there was no longer an intent to fell the trees for profit. Hence the coniferous monoculture remained decade after decade.
As has been shown in study after study of this type of forest they do little to protect or increase biodiversity, in fact they are often responsible for decreasing biodiversity. As for carbon capture - they have been shown to be significantly less effective at carbon capture then natural, mixed forests.
But then an interesting thing happened a few years before we took over. The previous owners, using a replanting grant, felled Dawlish Park. This large coniferous plantation in a steep, double sided valley was downed. All that was left was a beautiful Monterey pine that we conjecture remained from one of the earlier owners of Mamhead Park who had been 18th century sea-faring traders. More then 40 different varieties of trees were planted in its place including a beautiful collection of oak, some ash, chestnut and birch as well as a plentiful selection of wild fruit trees. The grant money made it possible to plant a mix of native deciduous trees. Some grew swiftly. Some were slow growing.
But the grant money made it possible to jump start a natural regeneration of a native forest.
Then more good fortune came Dawlish Park's way. The grant required constant intrusion into the native forest's growth. Bracken, weed and bramble were to be controlled and there were supposed to be annual inspections. Except the inspections didn't happen and the areas planted were left to their own devices. When the LettsSafari team arrived in this place it was a jumble of overgrown bramble and bracken with an incredibly dense hidden layer of struggling small saplings.
The trees had been planted far too densely for the space. The area itself was devoid of the key elements of a rewilding project. The original core habitat spaces worked for the restoration of the soil, but without the all-essential dedicated herbivores, Dawlish Park grew out of control. But it meant we had a fascinating base to start our rewilding work.
When I first entered it, the shrubs, gorse, ferns, bramble, everything stood 6, 7, 8 feet high, towering over me, intimidating and threatening any worker who arrived with the fear that nothing could ever be done with this 30 or 40 acres of sheer, biodiverse chaos. Layer after layer of thick, thorny canopy. The thousands of young saplings, planted to replace the ancient wood and become the new overseers of the land were non-existent, we could not find them in the plains of overgrowth. Just a few taller tree tops were visible. Nevertheless we persisted.
To start we had to go through the whole park with tools, myself first equipped with clippers, scythes and heavy duty shears. It was so thick it would be dangerous to use chainsaws - and strimmers had no chance. A team of three able bodied workers with weekend volunteers as well persisted. And our early work helped us to understand what was under the canopy - we were exhilarated. The canopy had protected the seedlings and they had grown into saplings - but now they needed to be set free from the bramble and gorse that enveloped them.
Quickly the scale of the task came into view. Months passed before the first segment of Dawlish Park, the very upper section of land just above the main paths, not more than a small fraction of the total space, was cleared. It became clear our human might, sweat, and labour would not conquer this place. So we brought in the machines. I learned to use a strimmer, tools became mechanised, the process repeatable. Even tractors dragged large chucks of undergrowth out.
Yet once again, the Park conquered those challenging it. The machines failed, unable to handle the steeper valley slopes and scale of the task. So finally, we turned to the herbivores. After a year and a half of working, struggling through the park, we introduced hardy, mixed foraging herbivores into our task. Welsh Mountain Sheep, the Torwen (Black with white markings) and Torddu (White with black markings) Badger Faces joined first. They proved the first to truly understand how to manage the space. Carving tunnels, routes through the growth of Dawlish Park, they gave us guides where to cut and to strim, through the network of wild brush and shrub we had to disentangle.
And like that, Dawlish Park became a space for rewilding. The habitats began to take shape, including habitats we had never expected. The three core habitats we had set to achieve were certainly there, the wild grasslands, shrub built through a network of dead-hedges constructed from the vast quantities of waste brush we had produced through clearing. On top of this though, thriving silvopasture sprung up, combining the young saplings that we had revealed with runs of flourishing grasslands, making animal-life factories that attracted all kinds of species - four legged and feathered.
It was through the cultivation and curation of these habitats, the work we and the animals had done to set up this space, that we saw the creation of new, wild, natural spaces, spaces like the centre of Dawlish Park, the valley where runs of wild grasses weave between now living hedges, dotted with young saplings, as well as spots of nettles that have become feeding grounds for the herds of deer that have since made Dawlish Park their home.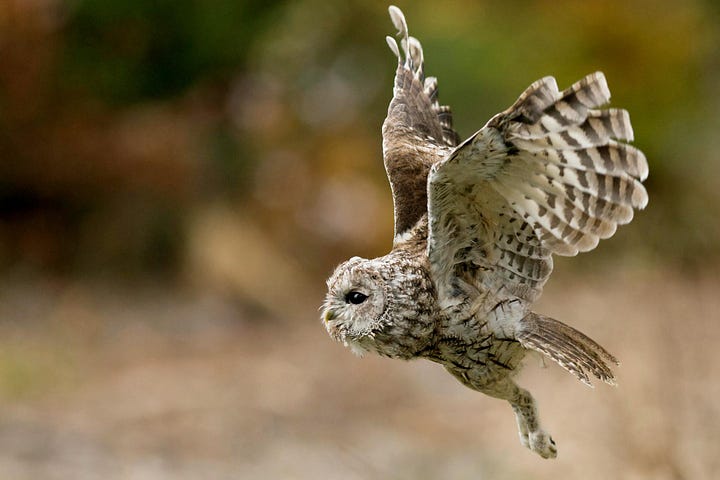 Perhaps the most stunning view within the park is the point where Dawlish Park opens up into wild, open grassland. As the grasslands naturally melds into the park you almost don't notice the increasing number of saplings springing around you, creating a small grove of crab apple, birch and cherry trees. As you reach the scrub, you notice it through the meter high wall of hedgerow wrought with gorse, bramble, bushes and shrubbery, creating a bug factory that is also an essential home for the Badger Faces, a habitat for bird life, and brimming with plant biodiversity.
On the tour I spot a herd of black fallow deer, standing in the wild grassland, just meters from the edge of Dawlish Park, they are there eating, before moving on. I capture them as the flee from the sound of a human, fleeing into their safe haven, fleeing into Dawlish Park's new woods - still just a few years old.
However, I would be amiss to describe, and help others understand Dawlish Park, if I didn't touch on the most natural part of the park. While work, backbreaking, human and animal, has gone into most every meter of the park, tirelessly clearing, hauling, constructing to transform Dawlish Park from overgrown afterthought into a living, breathing natural rewilding safari park, there is one place where we have never needed to do anything.
This space is dominated by the image that you might best associate with LettsSafari, an image that has become central to our understanding of the nature we are looking to protect. Not native to Dawlish Park, but now hundreds of years old, one of the only vestiges of the ancient forest, our grand Monterey pine stands tall above Dawlish Park, it symbolises the dominance of nature over all that we do. And today the 40 metre tall master stands over her clutch of babies. The work to clear enabled her to drop her magnificent seed and the undergrowth that grew before we arrived protected the seedlings from the bellies of the wild herbivores. Today she stands over a dozen young Monterey pines naturally grown here. None more than 15 years old - but some 3 metres in height.
The tree that stands above it all, and has for centuries before I arrived, and will for centuries after LettsSafari has finished its work in Dawlish Park, the Monterey pine is a reminder of the fact that nature, on its own, can survive, can outlast, and will conquer us, as much as we conquer it. It is a reminder of our mortality, or fleeting influence, and it stands today, as it stood yesterday, above a park that is now as natural as it is, as long as I stand to contribute, a park that remains as natural as it.
LettsSafari is doing something about climate change - 1 tree, 1 animal, 1 new safari park at a time. To help create more rewilding safari parks like Dawlish Park, please subscribe today.
---
Get more LettsSafari updates and wildlife photos from our twitter. And read all the latest posts at the LettsSafari + website.