Barbara Hepworth's Safari Garden?
Trewyn studio effortlessly combines nature, art and bird life - a safari garden in the making.
Southern Cornwall is full of surprises and wonders. Many of them authentically combine wild nature and art. From the Eden Project to Tremenheere Sculpture Gardens and the many wonders of Falmouth and St Ives. We take a look at Barbara Hepworth's Trewyn Studio in St Ives. A safari garden in the making?
---
Barbara Hepworth, one of England's most celebrated artists, bought Trewyn studios in St Ives in 1949. Around 1951 she started living and working there. And it was here that she died, in a fire, many years later. Today it remains much as she left it, a monument to her passion for nature and art - her imposing sculptures somehow combining the two. The walled garden that flows from her studio and sheds is still set out as she left it. Practically a safari garden in the making…
"Finding Trewyn Studio was a sort of magic. For ten years I had passed by with my shopping bags not knowing what lay behind the twenty-foot wall… Here was a studio, a yard and garden, where I could work in open air and space." Barbara Hepworth, 1970.
Indeed, for Hepworth, this place was her life. She lived, worked and contemplated here - developing nature based art about people and landscape - using natural materials such as wood, stone and marble. The garden is surrounded by walls, trees and rough hedges.
"In the contemplation of Nature we are perpetually renewed. Our sense of mystery and our imagination is kept alive, and rightly understood, it gives us the power to project into a plastic medium some universal or abstract vision of beauty." Barbara Hepworth, 1936.
Hepworth's extraordinary art, as did her contemporary, Henry Moore's work, practically defined British post-war abstract and abstract expressionist sculpture. Hepworth's particularly, is wrapped in nature that bursts all around the installations. The flora is mostly local, English native plants, but given its place on the outermost sea coast of Cornwall. Some flora is tropical and exotic.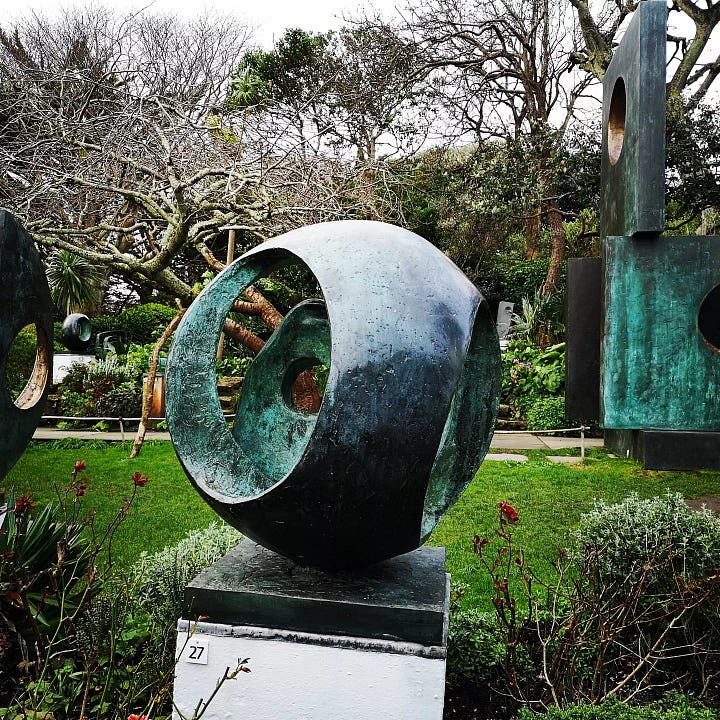 "I gradually discovered the remarkable pagan landscape that lies between St Ives, Penzance and Land's End; a landscape which still has a very deep effect on me, developing all my ideas about the relationship of the human figure in the landscape - sculpture in landscape and the essential quality of light in relation to sculpture which induced a new way of piercing the forms to contain colour." Barbara Hepworth, 1952.
Her words and thoughts echo around this place. Barbara may no longer be here, but her art, the walls, trees, plants and shrubs remain. Designed to somehow enshrine the natural, wild beauty of the cliffs and hills that surround. In a space half the size of a tennis court she weaves a new kind of narrative, and a garden safari beckons.
Hepworth was driven to challenge the post-war world and jumped on big causes. She was an early activist against pollution. Today, her garden shows us that anyone can create a small space for nature, wildlife and creativity - not just for us humans. Humans, as Hepworth taught us, are designed to be in this nature. One we can all recreate to serve this climate's needs. However small it might be.
LettsSafari is a pioneer in the development of the safari garden and hosts the world's first historic rewilded safari garden in southwest England. A place that also celebrates today's sculptors and environmental artists. It is open to the public for a few select days a year. Come and join us.
---
Get more LettsSafari updates and wildlife photos from our twitter. And read all the latest posts at the LettsSafari + website.