Discover more from LettsSafari +
We create rewilding safari parks. Built together - visited online. One tree, one animal, one new park at a time.
LettsSafari's Big Butterfly Count is Up!
It's a good time to be a butterfly at LettsSafari! Our own little butterfly count tells an uplifting story this year.
This year's capricious summer weather has been an unexpected boon for Britain's butterflies, with the biggest insect count in the world recording an increase on last year's all-time low. At LettsSafari it's been a pretty good year - and it's still going. Indeed, in some of our parks we spot butterflies and moths nearly year round!
---
Red admirals dominated the Big Butterfly Count as citizen scientists recorded an average of 12 butterflies per 15-minute count, up from nine in 2022. Which is a significant step forward.
The gatekeeper was the second most numerous species, followed by the large white, small white and holly blue. We spent time earlier this summer trying to chase down some lively small white butterflies in the Exeter's Capability Brown gardens (see video below)!
According to the Big Butterfly Count "The mixed weather this year has helped as there has been an abundance of green food plants available for caterpillars, and plenty of nectar-rich flowers for adult butterflies. However, while the number of butterflies recorded this summer has been the highest since 2019, the longer-term trends show worrying declines for some of the UK's most common butterfly species."
Alongside the red admiral four other species appear to be thriving in an era of big climatic changes, with long-term increases over 13 years for the painted lady, the holly blue, large white and small copper.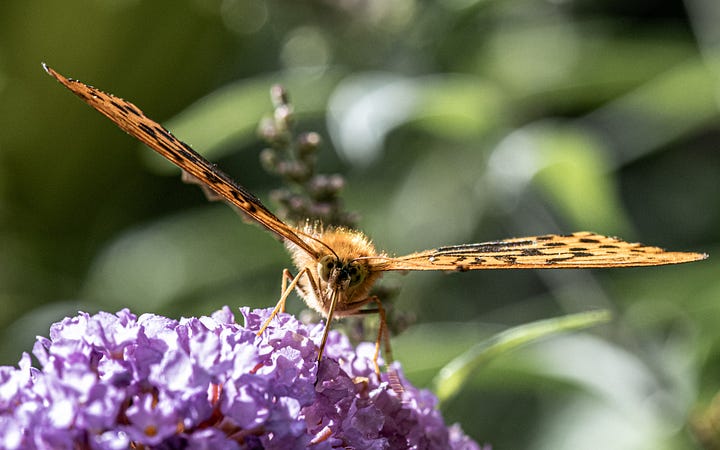 This is a welcome respite given the UK's release of the 2023 State of Nature Report which provided somewhat more depressing reading as reported by The Letts Journal with its usual tongue in cheek style.
The good news is that anyone can create a simple habitat for butterflies:
Wild grasses and wildflowers
We have written a great deal about the importance of wildflower meadows and wild grassland. These are vital for butterflies and moths.
Sun
There should be a part of your garden that gets at least 5-6 hours of full sunlight each day. Since butterflies are cold-blooded, they seek out warmth first thing in the morning. You can include large rocks that will warm quickly in the sun to provide a nice warming spot for them to start their day.
Shelter
Although you don't want a shady garden, carefully placed trees and shrubs will provide necessary shelter from wind. They also provide a place for butterflies to roost at night or to hide from predators. Many trees and shrubs are also food sources for caterpillars. Of course ragwort is one of the best natural attractions for caterpillars.
Water
Butterflies get their necessary water from nectar, dew and tree sap, but puddling stations can also be beneficial.
You can create a butterfly puddling station by simply filling a shallow old dish with sand or gravel and bury it to the rim in your garden where there is sun and protection from wind. Fill it with water so that it's damp but not pooling. Butterflies will use this "puddle" in the hottest part of the day - and they actually look for salt in these puddles so sprinkle some sand from your nearest beach as it already contains salt!
Hopefully together we can help the butterfly count to increase going forwards. As always - it's up to all of us! Imagine a future packed full of dancing butterflies. That gets our vote!
---
Get more LettsSafari updates and wildlife photos from our twitter. And read all the latest posts at the LettsSafari + website.